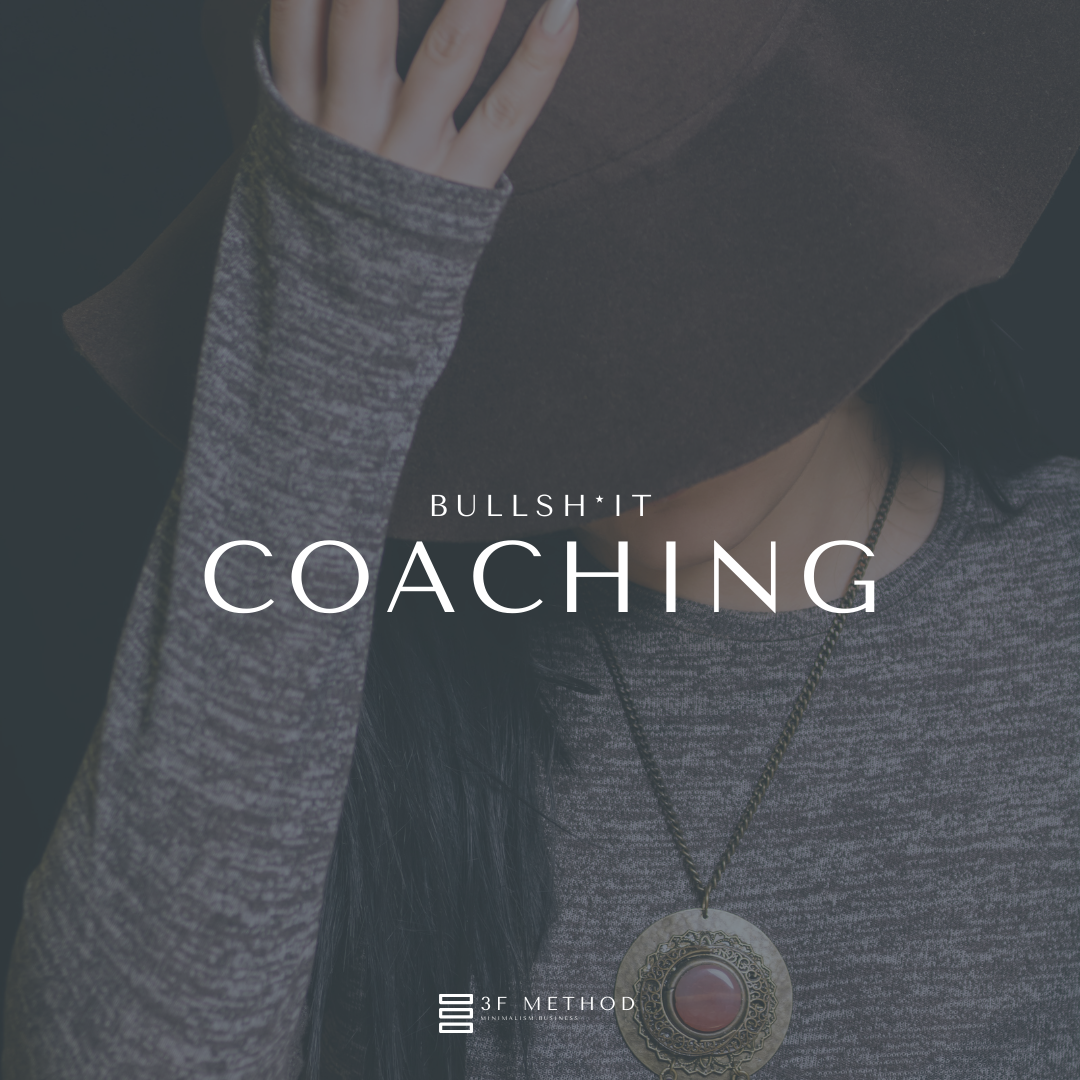 The old school ecommerce coaching bullsh*t approach.
Scroll down your facebook timeline and read…
Day in day out the ecommerce coaching industry is telling you on how to make more money.
– 113 best ideas to make extra money in your online store
– boost your conversion rate: 60+ proven ways to increase your sales
– 40 easy tactics to make extra money with your online store
I'm so sick and tired of this boring blabbering chatter about money and boosting your online store sales.
Why?
Because it's simply the old school bullsh*t coaching approach, promising you the best life you'll ever have.
Let me tell you something…
It's NOT about the money anymore.
Because making more money in ecommerce is easy. 
Here are some client results in a short period of time.
> One of my clients doubled her ecommerce sales for her premium product in just twelve weeks.
> We introduced a subscription product to existing customers through email marketing. This client got 120 sign-ups within the first four weeks and generated an additional revenue of 60K.
> Results from another client I worked with: 
– Optin-Rate 9%-10%+ (without boring contests or discounts)
– Email Open Rates  50%-60%+
– Email Click Rate 29%+ (a few slips with 62%)
– Email Conversion Rates 20%-26%+
About 30% of the total online store revenue comes from email marketing.
I'll say it again: Making money in ecommerce is super easy.
I know what you're thinking…
If it's not about the money, money, money, then what is it all about?
Coaching is about a unique and personal approach to service. Having a process, a framework of helping people improve. 
Challenging and pushing you out of your comfort zone with greater guidance, honesty and some tough-love conversations if necessary. 
It's all about YOU.
Teaching you how to THINK and ACT beyond your existing limits to accomplish the unexpected with ease. 
Gaining crystal clarity and helping you see what's possible for you in ways you cannot see on your own. 
Challenging your perspective and pointing out blindspots. 
Empowering you to break through the roadblocks so everything gets a heck of a lot easier.
Simplifying your todo list so you can focus on the essential strategies without overwhelm to get better results. 
Build up confidence because your business success is inseparable connected to your personal growth 
And maybe most important…  
It's about making things easier, to free up more time and energy for the work you do best… so you can serve at a higher energy level and make a greater impact. 
After almost 20 years in the ecommerce industry, working with online stores from Ground Zero up to 9-figures, I know what works and what doesn't .
My sole mission is to support you in making your business work for you. Not the other way around. And then money will come additionally.
If you're feeling… 
– that time is passing without achieving your intended outcome 
– that you're spending resources and still not having the results you want
– that your current situation is not matching your desired situation
Then get on a Clarity + Strategy Intensive. 
You'll gain crystal clarity and uncover your biggest opportunities for business growth right in front of you.  
We'll create a clear roadmap with actionable steps that work for you! 
Without the overwhelm so you're setup for exponential growth aligned with your values, goals, vision + your personal needs.
Save your seat and I hope to see you there.
It may very well change your life… 
https://minimalism.business/ecommerce-clarity-and-strategy-intensive/